10 Ways You Can Help Cats in Shelters
This post may contain affiliate or referral links which means we may earn a sales commission. Please see our full affiliate disclosure here.
Once we bring a pet into our homes we give them all of the love and care that they deserve, but what about all of the cats still in the shelter waiting for their forever family to come along? You may be wondering what you can do to help cats in shelters even if you can't adopt one.
While shelters receive donations, taking care of hundreds of animals every day is expensive. They and the cats patiently waiting for their forever homes also need our help.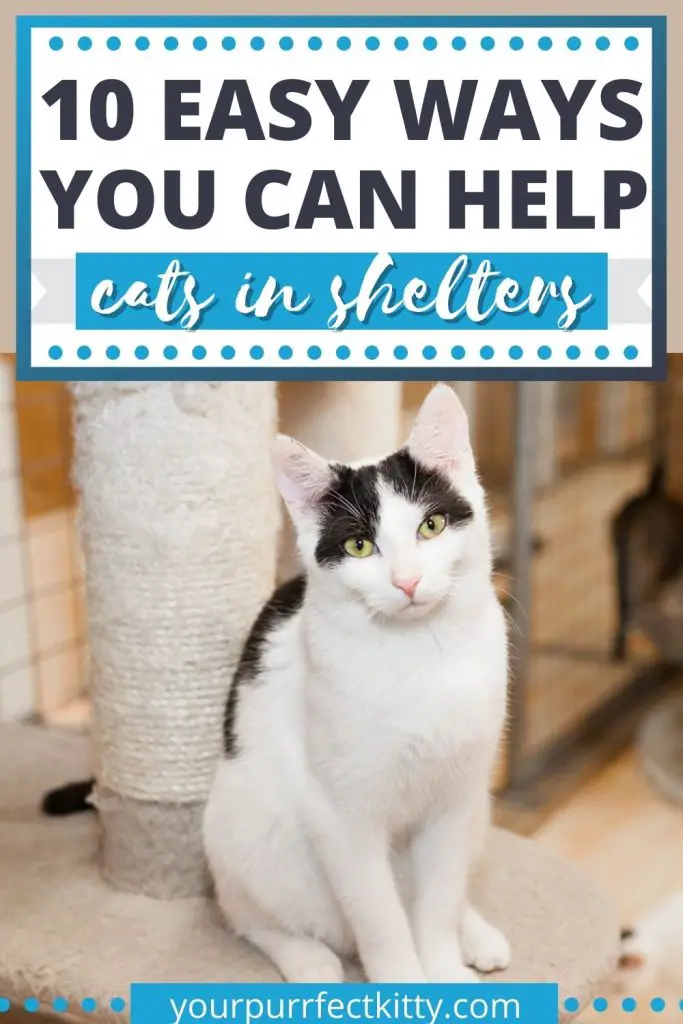 How Can We Help Shelter Cats?
The shelter staff is wonderful and they do what they can, but with so many homeless pets in their care, they can't do everything. This is why shelter cats also need people like you and me to give them a hand in any way we can. 
The good thing is, helping may be easier than you think!
1. Adopt, Don't Shop
The very best way to help cats in shelters is to adopt one instead of buying one from a breeder.
There are so many beautiful cats who need homes, from kittens to seniors. There are even some pure breed cats that end up in shelters.
When you adopt a cat from a shelter you are saving a life instead of helping to create the demand for even more cats (and animal shelters).
2. Foster Cats And Kittens
If you are unable to adopt a cat or if you feel like doing a good thing for a cat in need, many cats need foster homes just like yours.
Fostering is temporary but it's necessary as some cats need medical care or socialization before they are ready for adoption. A home environment is also better for a pregnant or nursing cat instead of in a shelter.
3. Volunteer Your Time
In addition to food and a roof over their heads, cats in shelters can get lonely. While your cat has a family to cuddle and play with them, shelter cats spend much of their day hanging out in a cage or a room with other cats without much human interaction.
You will love keeping them company, playing with them, and making sure they are socialized and so will the cats. Socialization is often a necessary step in helping a cat find a forever home.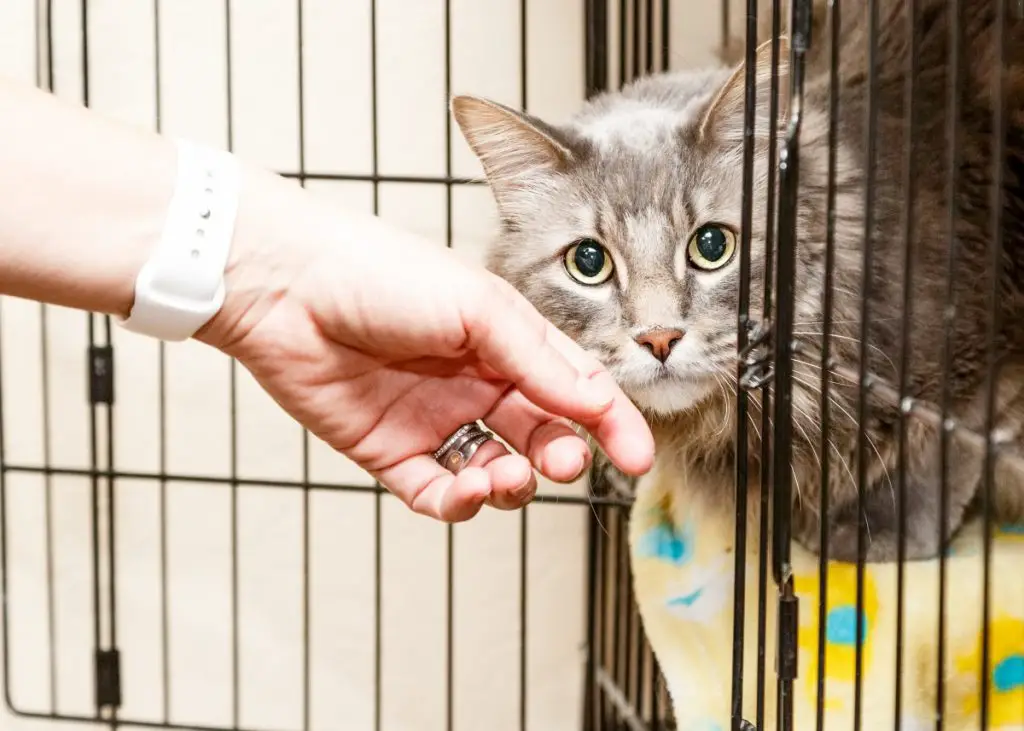 4. Photograph Adoptable Pets
Are you good with a camera? It is well known that the better the photos are of adoptable pets, the faster they will be adopted.
If you see that the pet photos on your shelter's website aren't all that great, give them a call and offer to come to take photos of the cats who are looking for homes. Your skills could mean the difference between a cat finding a forever home or continuing to wait.
5. Get Crafty
If you are someone who enjoys a DIY project you could make cat beds and DIY cat toys to donate for very little money.
You don't need to be Martha Stewart. We have made cat beds, lined boxes, and stuffed cat toys while not being all that crafty. There are plenty of no-sew items you can make or things that require the most basic hand stitching.
6. Spread The Word
If you know someone who is looking for a new cat, suggest your favorite local shelter. Sometimes we may assume that our friends already know about the shelters in the area, but they may not. Your post may help your friend and a homeless cat in need of a home.
7. Share Adoptable Pets On Social Media
Do you follow your local shelter on social media? If so, share their adoptable pet listings with your friends and followers.
Even if you can't adopt a cat right now, you may know someone who is looking and that cat your shelter just shared on their page might be the perfect fit for them.
8. Hold A Fundraiser
These days there are so many ways to raise money for your favorite causes. For your birthday can you hold a fundraiser for a local shelter or rescue right on Facebook without much effort. You can even donate to shelters and animal organizations just by shopping on Amazon.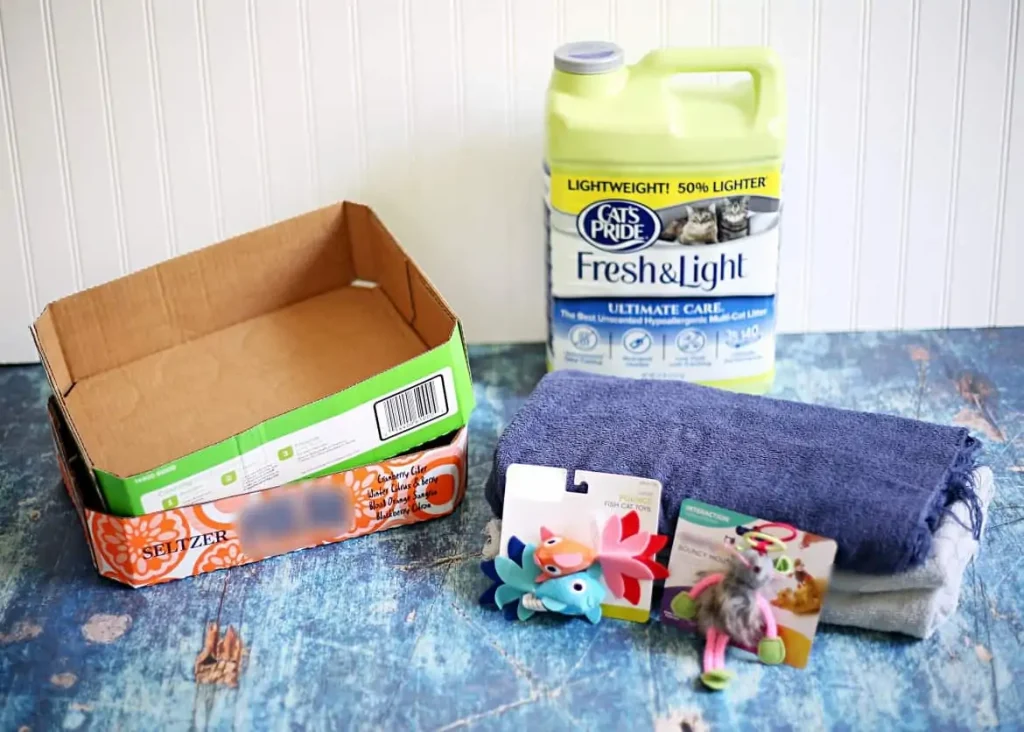 9. Donate Supplies
Animal shelters rely heavily on donations from people like you and me. You can help by donating supplies, some of which you may already have around your house.
Animal shelters are often in need of the following items:
boxes
old towels
bedding
toys
cleaning supplies
cat food
cat litter
These items are often in short supply and your donation would be a huge help to shelter cats in need.
10. Donate Money
Of course, monetary donations are always welcome. You can often donate online, so it is often the easiest way to help cats in shelters.
Final Thoughts
There are many ways that you can help cats in need, both by adopting one yourself or by helping out your local shelter. No matter what you do, each act of kindness will make a difference for homeless cats and kittens. We hope that you will consider lending a hand (or paw).