Gingerbread Man DIY Felt Catnip Toy
This post may contain affiliate or referral links which means we may earn a sales commission. Please see our full affiliate disclosure here.
You don't have to be super crafty or even know how to sew more than a basic stitch to make this gingerbread man DIY felt catnip toy. If you can thread a needle, you can make this!
You can make this holiday gingerbread man as simple or as fancy as you like. You can even make it into a gingerbread girl by cutting out a dress. 
If you have the most basic sewing skills, you can make this craft easily with supplies from your local craft or discount store. You could also find them online if needed. 
You might also like:
Surefire Ways to Cat-Proof Your Christmas Tree
Easy to Make Jellyfish DIY Catnip Toys
How do you make felt cat toys?
To say that my sewing skills are incredibly basic would be an understatement. The point is that if I can make these, so can you. You don't even need a sewing machine or any special skills. As long as you know how to use a needle and thread, you're good to go. 
Materials:
Colored felt sheets – tan, white, and black
Fabric glue (optional)
Decorative ribbon or other cat-friendly embellishments. ** Please do not use glitter, beads, googly eyes, or other materials that could easily come off and become a choking hazard.
Instructions:
1. Print the gingerbread man stencil PDF and trace two of them onto a piece of brown or tan felt along with one set of the eyes, mouth, and buttons. Trace the eyes on white felt, mouth on black felt, and buttons on the color felt of your choice. 
2. If you want to make it a gingerbread girl, also cut out and trace two of the dress shapes on the color felt of your choice.
3. Cut out the two gingerbread man shapes and other pieces with a pair of fabric scissors. One gingerbread shape will be the front and the other will be the back of the toy. 
4. Use fabric glue to stick on the ribbon, eyes, mouth, and buttons so they would stay in place for sewing. Once the glue is dry, use a needle and thread to sew the pieces on to keep them secure. Use black thread or a fabric marker to create the pupils of the eyes. Do not decorate with beads, googly eyes, glitter, or other materials that can be dangerous if swallowed.
5. When the front of the gingerbread person is decorated, take some embroidery floss and sew around the edges of both pieces of fabric. Leave one end open, fill it with catnip, then sew it shut with the embroidery floss. To fill the catnip toys, use a folded piece of stiff paper or a funnel.
6. If making your gingerbread person a girl, sew on the two dress shapes over the front of the gingerbread person and add ribbon details to the cuffs and bottom of the dress. 
Can you use felt for cat toys?
Yes! In fact, felt is a great material to use for DIY cat toys. It is durable, easy to craft with, inexpensive, and comes in a wide range of colors. 
Is felt safe for cats?
Felt is a safe fabric for cat toys because it holds up to a cat's claws and teeth without fraying or coming apart like some other fabrics might. You don't have to worry about your cat's toys becoming a choking hazard when you use felt. 
Now your holiday DIY felt catnip toy is ready for your cats to play with or add to a cat gift basket for your kitties and put their new handmade toys inside it. It would be perfect with some cat treats, cat toys, and maybe even a few special cans of cat food. 
Why not? Cats are family and I'm sure they also enjoy presents. 
Now that you know how to make your own DIY catnip toys, you can make easy DIY cat toys in any shape or design that you want. Find something to use as a stencil online, or make a simple shape like a circle, star, or heart.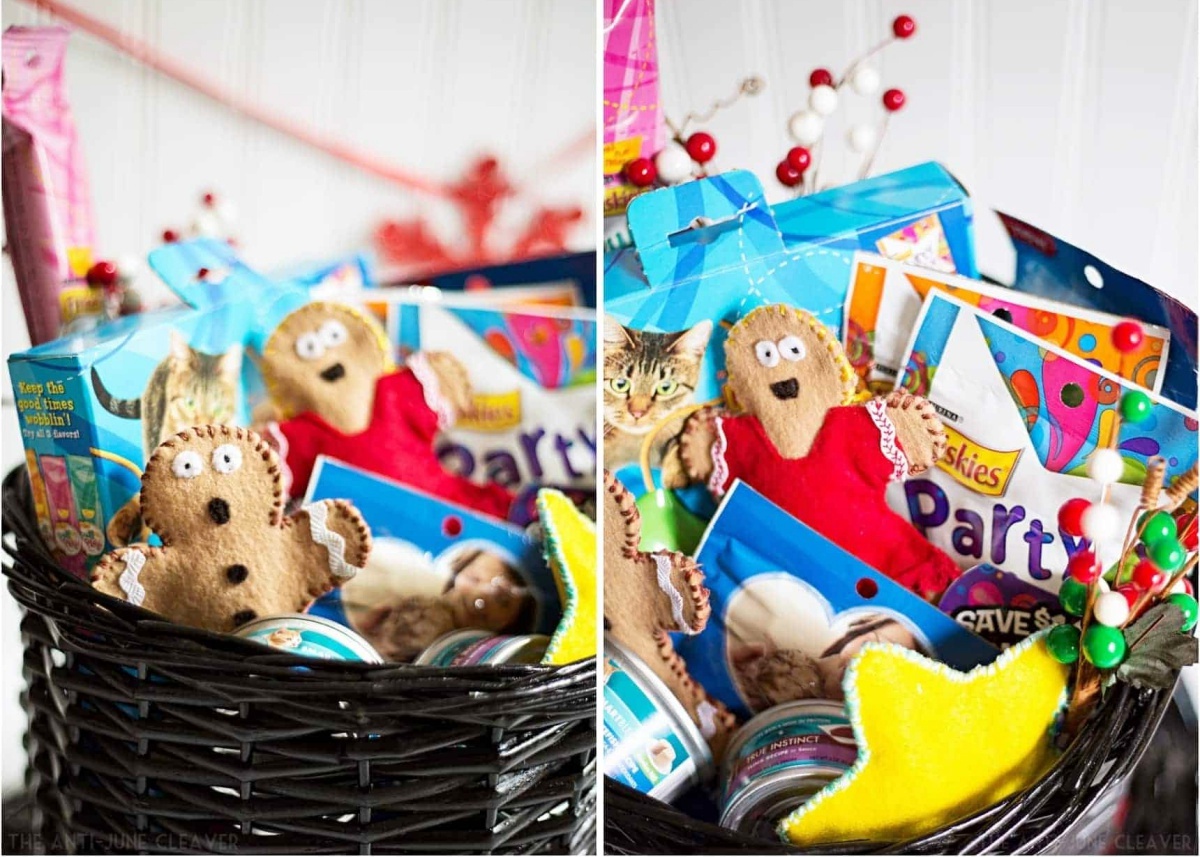 More felt toys for cats
If after reading this tutorial you have decided that it's not for you or that you would like some more felt cat toys for kitty, here are some more great choices for your furry feline friend.