Surefire Ways to Cat-Proof Your Christmas Tree
It's that time of year again- Christmas is coming! This means it's time to hang up your Christmas tree and start decorating. But what about the cats? A lot of people are concerned with the safety of their cats during this holiday season and how to cat-proof your Christmas tree.
Cats and Christmas trees aren't always a perfect match. Cats love to climb trees and it is instinctual for them, so how do you keep them away from the tree? In this blog post, we will go over some tips for keeping your cat away from the Christmas tree as well as some helpful hints on how to decorate when you have a curious cat at home.
By using a few safeguards you will be able to make your tree less inviting to your cat. Here are a few tips: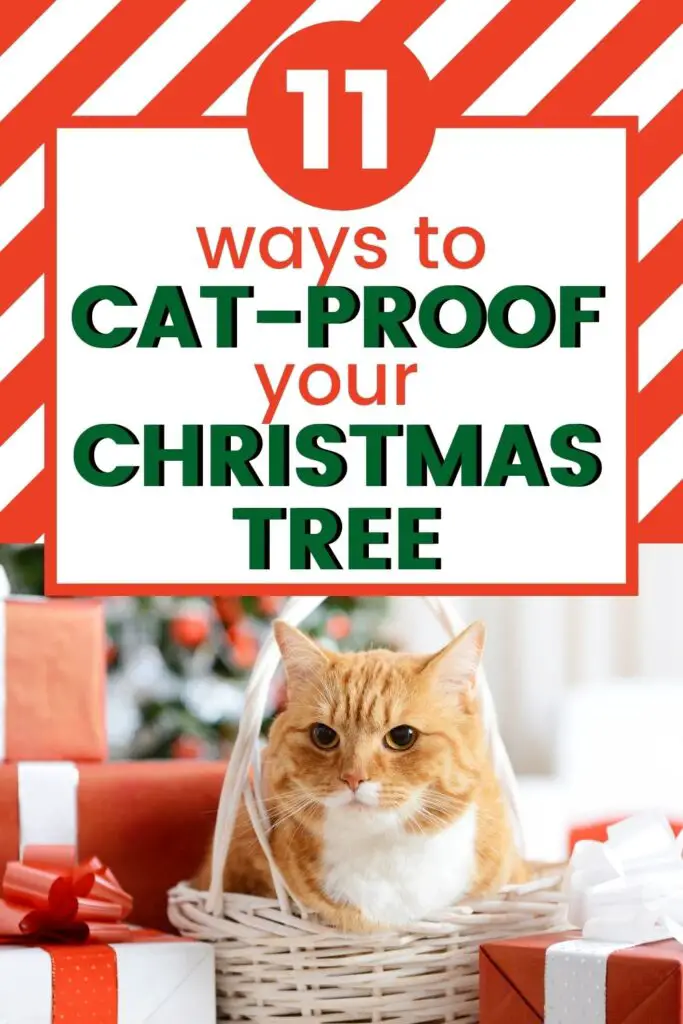 You might also like to make an easy DIY Gingerbread Person Cat Toy.
How to cat-proof a Christmas tree
Whether you have a real tree or an artificial tree, there are many things to consider when you have a cat during the holidays. The type of tree you put up, how you decorate it, what you use for barriers, and even your Christmas tree stand are just some of the things you need to consider when you need to keep your cat away from your tree.
1. Choose the right tree for your cat
There are a few types of Christmas trees you can buy, each with its own pros and cons. Your cat's curiosity level will also play into the decision-making process here.
Artificial tree – For many households, an artificial tree is the best way to go when you have cats. Pine needles can be a choking or injury hazard, especially if your cat likes to chew on branches. also, artificial trees aren't as easy to climb as real trees and they are lighter, so therefore easier to secure to a wall if needed.
Real tree – A real tree isn't the best choice when you have cats. They can present hazards to your cat such as choking on needles and branches, being crushed if the tree comes down, or even tummy upset if they drink the water from the tree stand.
Unless your cat isn't a climber or one that chews on pine needles and branches, we recommend getting an artificial tree. If your cat just wants to play with ornaments, then you can probably be thoughtful about your ornament placement keep your real tree.
2. Choose the location for your tree thoughtfully
If your cat is a climber, you may not want to put an 8-foot tree in the middle of your living room. Instead, secure the tree as mentioned above, or put a barrier around it.
If possible, put larger Christmas trees in an area of the house that can be blocked off from your cat while you're in bed or away from home.
Another option is to get a tabletop tree and place it on a table where your cat isn't likely to climb.
Do not put your tree near furniture or tables that your cat might be tempted to jump from to get to the tree.
3. Cat-proof Christmas tree stand
Cat-proofing your Christmas tree stand is an important safety measure for any cat parent. Choose a sturdy, stable and wide base that is the correct size for your tree in order to prevent your cat from easily knocking it over.
If you have a real tree, prevent your cat from drinking the tree water in the stand by covering the stand either with a Christmas tree skirt, foil, or a barrier.
4. Leave the tree undecorated for a few days
Set up your tree and leave it empty for a few days to get your cat accustomed to the strange new object in the house. If after a couple of days the cat leaves the tree alone, try slowly decorating it by putting the lights on, leave the tree lit for a day or two, then put the ornaments on the tree.
5. Use deterrents
There are cat-safe deterrents on the market, designed to keep your cat away from things you don't want them to get into. Some of these include cat repellent sprays that have scents cats hate, such as citrus or peppermint, motion-detecting sprayers, scat mats, and even old-fashioned aluminum foil.
Try the least invasive deterrent first and work your way up until you find what works for your cat. You could put orange peels around the base of the tree or hang dried oranges on your tree as ornaments. You could also use citrus or peppermint sprays to keep the tree safe from your cats.
If your cats like to chew on your artificial tree or pine needles, you could try using a bitter apple spray. They won't like the taste and it should only take once or twice before they stop trying to chew on the tree.
Placing pieces of aluminum foil around the base of the tree and wrapped around lower branches could also deter your cat from getting too close to the tree.
Keep in mind that some products may be too harsh for use near plants or children, so choose a cat deterrent wisely. They also may not work for every cat so you might have to try multiple products before finding the one that works best for your kitty.
6. Secure your Christmas tree
If you display your Christmas tree close to a wall, a good way to secure it is to tie a rope, cord, or fishing line around the tree trunk and secure it to a wall.
7. Cat-proof your Christmas tree lights
Place Christmas lights toward the center of the tree so the cords aren't as tempting for your cat to chew on.
Cords can be made more cat-friendly by using cord covers to keep them from chewing through the cords.
If your cat isn't a serious chewer and just wants to play with the cords, unplug the lights before going to bed or leaving the house so they don't get shocked or worse.
8. Choose ornaments less likely to be attractive to your cats.
If you live with cats then you don't want to have ornaments on your Christmas tree that will be especially attractive to your cat. Ornaments that hang low, move on their own, shine in the light, or are otherwise enticing should be left off the tree completely or hung up high where your cat won't nice them or be able to reach them.
9. Hang delicate ornaments high so that your cat can't reach them
Hang ornaments that are delicate, sentimental, and breakable ornaments up high on the tree and put any plastic, fabric or otherwise unbreakable ornaments toward the bottom.
10. Leave the tinsel off the tree
Tinsel isn't as popular as it once was, but if you are someone who likes to put it on your Christmas tree, you should leave it off if you have cats. They can chew on the tinsel and swallow it causing a probable choking hazard for your cat.
11. Keep poisonous plants away from your tree
When it comes to toxic plants, a lot of times the poison is in the dose but it's better to be safe than sorry. If you share your home with a cat, keep any plants that are toxic to cats such as poinsettia and mistletoe out of reach and definitely not under or next to your Christmas tree.
When spending the holidays with a cat, there may be some extra precautions to take to make sure it all goes smoothly, but it isn't hopeless. You know your cat best and if one thing doesn't work, try another. Eventually, you and your cats will have a happy and uneventful Christmas season together that is free from stress, anxiety, and CATastrophic accidents that can put a damper on your holidays.