Tips for Boarding Your Cats While You're on Vacation
Planning a vacation when you have cats isn't always easy. Cats are fairly independent critters and you may wonder, "what do I do with my cat while on vacation?" If you are going to be gone for more than a day or two, we recommend boarding cats while on vacation.
While it is easier to find boarding for a dog, there is plenty of cat boarding available. To find a place to board your pet, you can ask your vet, try asking in a local Facebook group, or do a Google search for "where to board my cat near me" if recommendations are few and far between.
After you have found the name of a place to board your cat and have visited the facility to make sure it is clean, has plenty of space for your cat, and has a plan for letting your cat out for exercise, there are things you should do to prepare for the big event.
These are our tips for boarding cats while on vacation.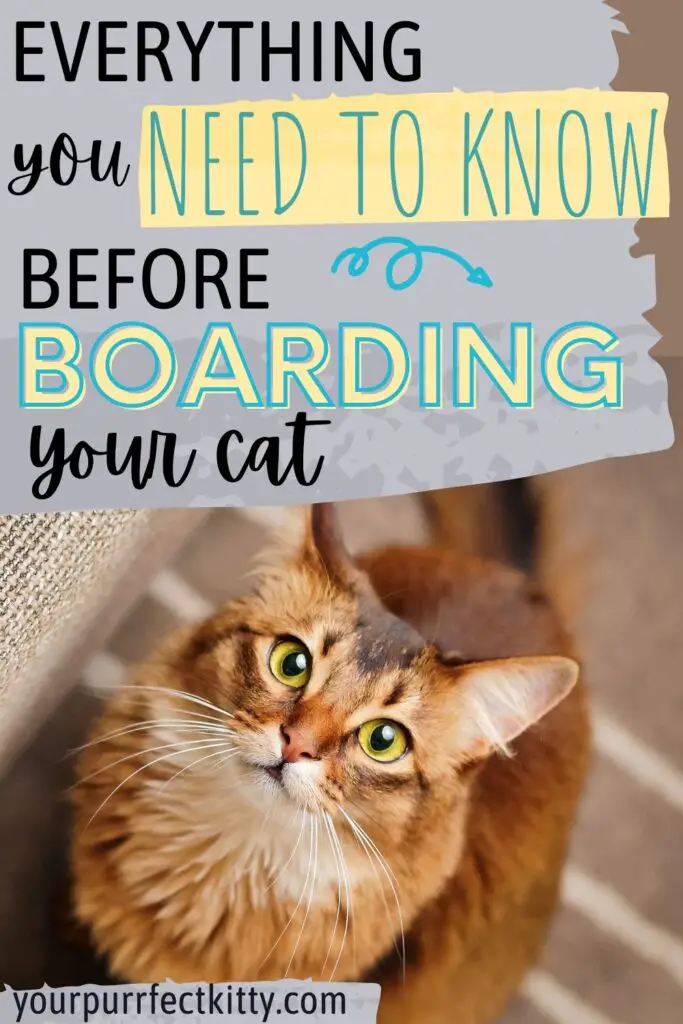 Plan ahead
Don't leave the care of your cat to the last minute, especially during busy vacation times. Cat boarding facilities may be fully booked if you wait too long, so getting your cat's spot booked as soon as possible is best.
Choosing a cat boarding facility
If you decide to use a cat boarding facility or kitty hotel, the internet is a great place to start. Many websites have a list of the services they offer, pricing, and photo galleries. A few even have videos.
When starting your search, create a shortlist of three or four facilities you like best, then arrange a visit A visit to the facility gives you an idea of whether the staff is attentive, if the size of the enclosures and exercise areas are adequate, and if the facility is clean.
Cats are members of the family and you want to be sure they will be in the best hands while you are away.
Food and feeding instructions
When boarding your cats, be sure to bring enough food for their entire stay and then some, just in case. A simple plastic cereal container makes a great container for transporting dry food.
Be sure to include detailed feeding instructions for your cat. Remember, you want your cat to feel as close to home as possible. Using their regular food in the amount that they eat at home will help keep them on schedule and may provide them some comfort while you are away.
Vaccinations
Be sure that your cat's vaccinations will be up-to-date at the time of their stay and provide copies of their records for the cat hotel. If your cat is overdue for some or all of its shots, make an appointment with your veterinarian as soon as possible.
Emergency information
If you are boarding your cat you will have paperwork to fill out that includes the name of your veterinarian and an emergency contact. Be sure to have these names and phone numbers ready before filling out the forms.
Toys and familiar items
While the family is away, familiar items from home may help ease some stress in your cats. Along with cat food, bring their favorite blankets and cat toys so they have some familiar comforts and smells during their stay away from home.
Transportation
This may seem like a no-brainer, but if you are boarding your kitties, you will need to have them in a cat carrier.
When choosing a carrier, be sure to purchase one that is big enough for your cat to lay down or turn around if they need to. Riding in the car isn't usually a cat's favorite activity so give them enough space so they can (try to) relax.
Is it better to board your cat or leave it at home?
It is our opinion that boarding cats if you are going to be gone for more than an overnight trip is best, but it is a personal choice. You know your cat best. If you are only going to be gone for a couple of days, most cats can stay home if left with enough food, water, and an extra litter box.
If you have a cat that will eat all of its extra food if it's left out or will become destructive, it is best to board your cat, even if only for a short time. For overnight, an automatic cat feeder will work well for gluttonous cats.
Do cats feel abandoned when you board them?
In general, cats don't love change. Of course, they would rather be at home with you, but sometimes it is unavoidable to board them for their own safety and well-being.
Hiring a pet sitter to feed and check up on your cat in their own home is often the best option, but if it isn't possible, your cat will forgive you if you do have to board them.
As you can see, boarding your cat isn't hard, but it does take some planning. If, after looking into cat boarding for your vacation, you decide to bring them along with you instead, here are some tips for traveling with a cat in the car.