How to Make Moving with Cats Easier
Do you have a case of wanderlust or have you gotten a great new job in a brand new state? Exciting! But you also have a cat or even multiple cats. Moving with cats in the car sounds difficult.
Or is it?
As you start looking for a new home in your new state and hire movers or rent a U-Haul, you wonder how you are going to travel with a cat in the car. After all, your cat probably throws a fit just going a few blocks in the car on the way to the vet; there's no way they will handle hundreds or even thousands of miles in a car.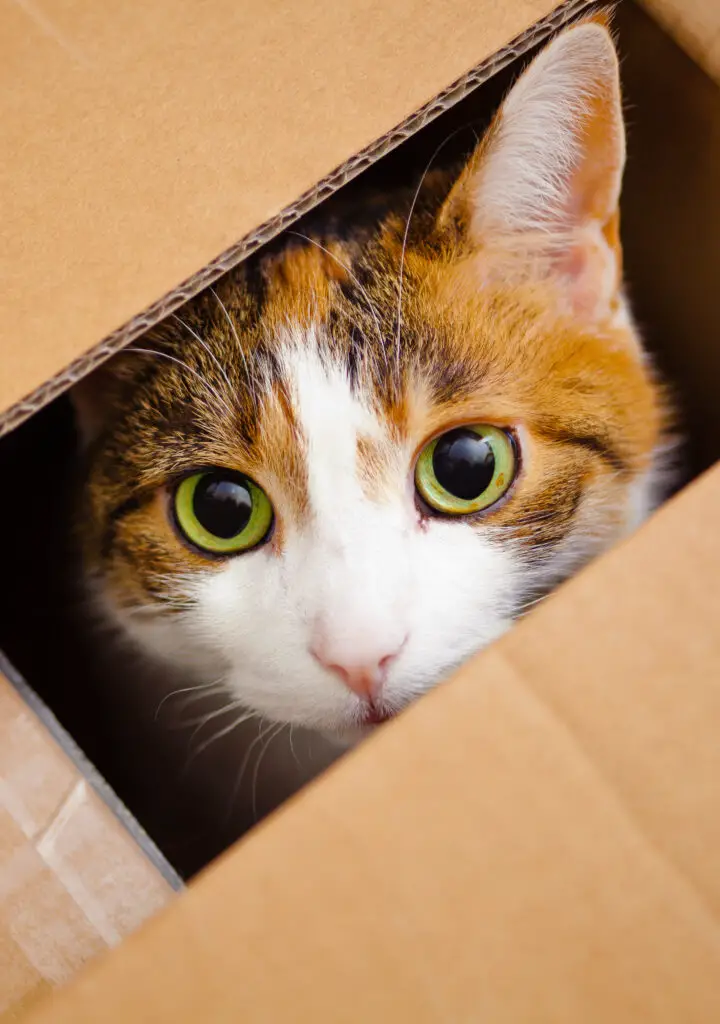 Or will they?
One of the biggest reasons people give for surrendering their cat to a shelter is that they're moving, but it doesn't have to be this way. Really, moving with cats is much easier than you might think.
Moving cross country with cats can seem impossible to many people. I'm sure you have so many questions about moving with cats that it might seem overwhelming.
How often do they need to eat?
How is my cat going to use the litter box?
Where can I stay with my cat?
Do I need to buy anything extra to travel with my cat?
We will help you answer these questions and more to make your move much easier than you thought possible.
Visit the vet
Before you head off to your new destination make an appointment to visit your vet. Your vet could have some helpful tips for moving long distance with cats and they can also prescribe some sedatives if you think your cat may need them.
There are pros and cons to using sedatives so discuss it with your vet and come to the decision that works best for you and your cat. You know him or her best.
Should you use a cat carrier?
When traveling long distance with cats it might seem easier or more kind to let your cat stretch and roam freely in the car, but it's best to keep them contained in an appropriate cat carrier. This way the cat won't be injured in the event of an accident, escape from the car, relieve themselves in the car, get stuck under a car seat or worse, at the driver's feet.
In a carrier, your cat will likely shut down and either relax or sleep most of the way. A hard plastic cat carrier is recommended over a soft one. A hard carrier will give your cat more protection and room to stretch.
When to feed your cat while traveling
If you'd like, you can stop and feed the cats along the way. This isn't necessary as your cat will be fine eating in the morning and evening in your hotel room. Feeding them in the hotel room will avoid any bathroom or motion sickness accidents in the carrier while driving.
Do you need to stop for litter box breaks?
Like feeding, you may want to stop and see if your kitty needs to use the litter box. In many cases, a cat can wait six to eight hours to relieve themselves, but take cues from your cat on this issue. To be safe, try putting puppy pads in the bottom of the carrier.
What kind of litter box to use while traveling with cats in the car
Bring a small litter box with you that will fit easily in the car and in the corner of a hotel room. A disposable litter box is also an easy option as they are lightweight and easy to transport.
If you would prefer the plastic litter box route, I do not recommend a sifting litter box. Clumping litter can get stuck in holes in the bottom and can create a bigger mess than you want to deal with in a hotel room. A small plain plastic litter box and a cat litter scoop is the easiest option.
To transport the litter box, try leaving the cleaned out litter in the box and wrap the whole thing up in a garbage bag. The garbage bag can also be used as a makeshift litter mat under the box while in the hotel room. This will cut down on litter mess in the room and make transport easier and cleaner.
Pet-friendly hotels that allow cats
When moving with cats, finding a hotel might seem like an obstacle. Believe it or not, there are plenty of hotels that will let you stay with your cat.
The following common hotel chains are pet-friendly and will allow you to stay there with your cat. You may also have success with higher-end boutique hotels. As always, call ahead. Some may charge an extra fee per cat per night, but not all of them do.
There is a cat-friendly hotel at any price point and comfort level. This is a list of some of the most popular hotel chains that you will find along the way. Another way to find pet-friendly hotels is with a travel website/app such as hotels.com where you are able to use the pet-friendly filter for your results.
AmericInn
Best Western
Clarion Hotel
Comfort Inn & Suites
Courtyard by Marriott
Country Inn & Suites
Days Inn
Drury Inn
EconoLodge
Embassy Suites
Extended Stay America
Holiday Inn Express
Howard Johnson
Hyatt Place
LaQuinta
Motel 6
Red Roof Inn
Residence Inn
Sleep Inn
Staybridge Suites
Super 8
Quality Inn
Call ahead to verify that that particular hotel will accept your cat. The majority of hotels that say they will accept pets on hotels.com or on their website will honor the pet policy, but even if a hotel chain says they will accept your cat, call to double-check before booking. You don't want to arrive only to find that the person at the front desk will not honor that policy or that their pet policy only covers dogs.
As you can now see, moving with cats is easier than you might think. As long as you are prepared with plenty of food and litter, your kitty will likely be a good little traveling companion.
Products that will make moving with cats easier
Last update on 2021-04-22 / Affiliate links / Images from Amazon Product Advertising API