The Best Cat Litter for Multiple Cats
One of the most important things a cat owner has to decide is which kitty litter to use. When you have more than one cat, finding the best cat litter for multiple cats is a must.
You want a litter that is absorbent, doesn't track all over the house, isn't too dusty, and most importantly, traps litter box odors so no one will ever know that you have multiple cats. This is why our overall pick for the best multi-cat litter is Arm & Hammer Clump & Seal Multi-Cat.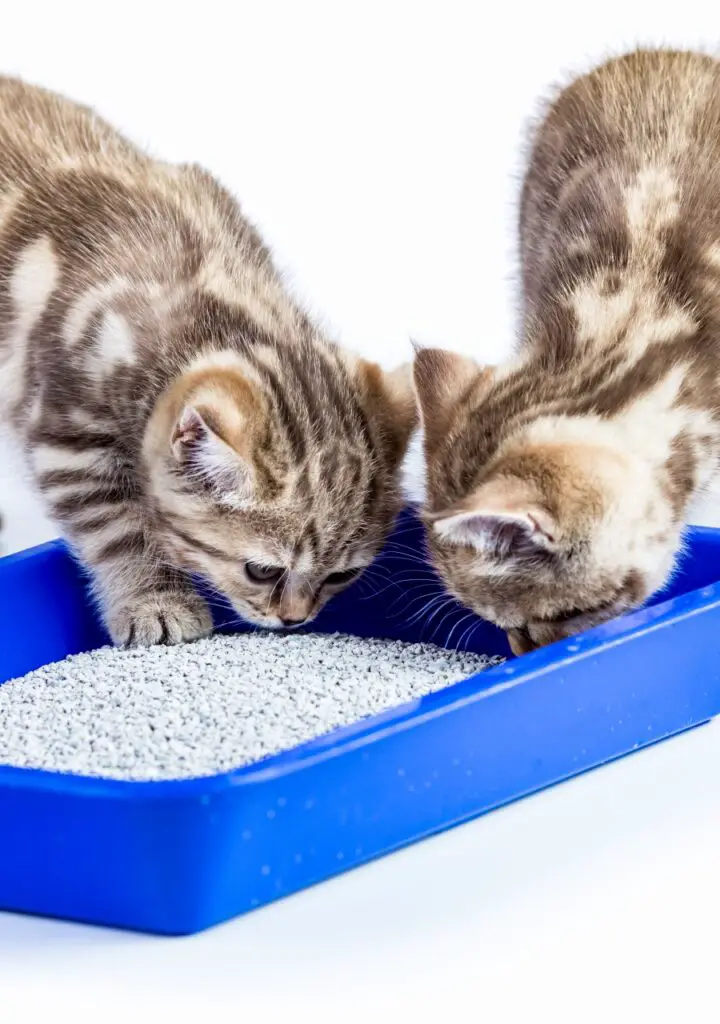 When using a cat litter that isn't well formulated for more than one cat, you can end up with a stinky house or even worse, a cat that refuses to use the litter box and does their business elsewhere in your home. That is obviously not ideal, so it's important to find a cat litter that works well and your cat won't reject.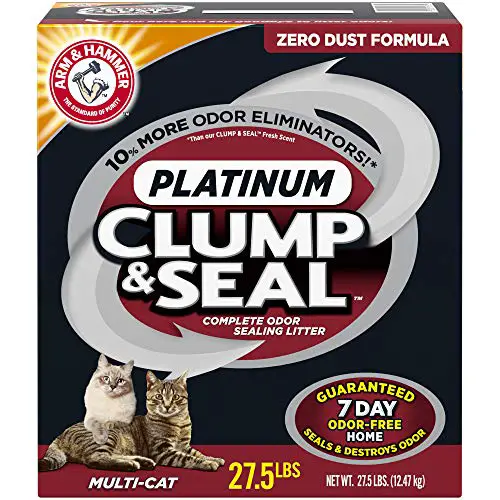 Arm & Hammer Clump & Seal Multi-Cat Litter
10% MORE ODOR ELIMINATORS THAN CLUMP & SEAL FRESH SCENT CAT LITTER....
100% DUST FREE PLATINUM FORMULA kitty litter. Zero dust cloud when you...
7 DAY ODOR-FREE HOME – GUARANTEED. Clump & Seal MultiCat clumping...
The best is a subjective term, but we have researched and tested the top brands of multi-cat litter to compile a list of what we believe to be the best cat litter for multiple cats.
We understand that everyone has different needs when choosing the right cat litter for their feline friends. Whether you are looking for clumping, unscented, or natural kitty litter, we have an option for every cat.
Our top choices at a glance
If you're in a hurry, our top multi-cat litter picks are below. For a more in-depth description of each choice and why they made our list, you will find that information further down.
The difference between regular and multi-cat litter
You might wonder if there really is a difference between regular and multi-cat litter. In short, a multi-cat litter absorbs and traps odors better than a regular kitty litter.
Having more than one cat means that your cat litter has to work overtime. More traffic to the litter box means you need better odor control.
Multi-cat litters work by having more odor neutralizers for better litter box odor control. Many multi-cat litters also have better clumping ability to trap odors quickly.
Potential allergies
Just like people, some cats have allergies. Cats can be allergic to perfume and fragrances, so due to the extra odor control and fragrances in cat litter, your cat might begin to exhibit signs of an allergy.
If your cat is experience any of the symptoms below, speak with your vet. They may suggest an unscented cat litter, which is available in multi-cat varieties.
Symptoms of a cat allergy
From the WebMD Veterinary Reference from the ASPCA
Sneezing, coughing, and wheezing
Itchy skin; increased scratching
Itchy and/or runny eyes
Itchy back or base of tail (most commonly seen in flea allergies)
Itchy ears and ear infections
Vomiting
Diarrhea
Snoring caused by an inflamed throat
Paw chewing/swollen paws
Odor control
When it comes to choosing a litter, odor control is number one. No one wants to smell a cat box and when you are a multi-cat household, it can be more difficult to keep those odors at bay.
The best cat litter for multiple cats will have extra odor control as compared to standard litters. This could be in the form of faster clumping properties and/or extra perfumes. If perfumes bother you or your cat, unscented multi-cat cat litter is available.
High absorbency
Next to odor control, the most important feature of the best multi-cat litter is for it to be highly absorbent.
A high absorbency cat litter will turn cat urine into a solid clump on contact in order to contain odors. When choosing the best cat litter for multiple cats, it has to have a high absorbency in order to make our list.
The pros of clumping cat litter
Clumping cat litters are the most popular on the market and, we think, justifiably so. If you aren't already using a clumping litter, here is why we think you will love it.
Most importantly, it keeps litter box smells at bay. Before the days of clumping kitty litter, we could only scoop the solid waste from the box, leaving behind the smelly liquid waste.
As we all know, cat urine is a pungent odor. When using a litter that clumps, the litter hardens around liquid so you are able to scoop the urine out of the litter box as well. This leaves a cleaner smelling cat box, a cleaner smelling home, and a happier cat.
The cons of clumping cat litter
Since nothing is perfect, there are some disadvantages to using clumping cat litter. Sometimes the clumps can harden along the side or the bottom of the litter box, causing the clumps to stick to the box and making it difficult to clean.
Clumping kitty litter is also made of finer granules which can track outside of the box and they are a little more difficult to sweep up than its traditional non-clumping counterpart. If you use clumping litter, or any litter, really, a cat litter mat is highly recommended.
If you are litter training a kitten, pay close attention to them when they are being taught to use the litter box. If they are ingesting clumping cat litter it can harden inside their digestive tract and become a health hazard. If this is the case, switch to a non-clumping cat litter until the kitten is a little older. Of course, bring them to the vet if you become aware of any health issues with your kitten after using the litter box.
Low dust
Clumping cat litters tend to be lower in dust than standard non-clumping litters as they are made of more fine clay granules than non-clumping litter. There are clumping litters that are dustier than others, and those litters were left out of our recommendations for the best cat litter for multiple cats.
* While the cat litters on our list claim to be dust-free, just by its nature, there could be a small amount of dust while pouring litter into the litter box. That is why we use the terms low dust and virtually dust-free instead of dust-free in our recommendations.
Use caution with any kitty litter if you have compromised respiratory function.
Low Tracking
Another feature to look for when looking for a good kitty litter is to find one that is low tracking. What does low tracking mean? Low tracking simply means that your cat won't track much of the litter from the litter box to the floor when they've finished using it.
By its nature, some litter will be left on your cat's feet when they leave the box. The best cat litter for multiple cats will track less than others since no one wants to step on grainy cat litter while walking through their home. Even with a low tracking litter, you will want to get a litter mat to trap most of it before your cat reaches the bare floor.
How many litter boxes do you need for more multiple cats?
How many litter boxes should you have per cat? Even with just one cat, it is preferable to have one litter box on each floor of your home if at all possible. With multiple cats, ideally, you would want at least one litter box per cat.
Cats are clean and fussy creatures who don't like using a dirty litter box, and rightfully so. Humans wouldn't want to use the bathroom after someone who hasn't flushed the toilet, and neither do cats.
If the litter box is too dirty you will not only run into odor problems, but your cat may decide that they won't use it all and relieve themselves somewhere else in your home. You definitely don't want that, so aim for as many litter boxes as you can manage in your home.
If you live in a small apartment, having one litter box per cat may not be possible. In that case, be sure to clean the box regularly; even multiple times per day of necessary.
The best cat litter for multiple cats in depth
After combing reviews, testing kitty litter with our own cats, and compiling the data, we have come up with the best cat litter for multiple cats in several categories to give you some great options to try in your home.
Whether you are looking for strong clumping, unscented, inexpensive, or natural litter, rest assured that you can't go wrong with any of these multi-cat litter choices.
The Best Multi-Cat Litter Overall
Arm & Hammer Clump & Seal
---
Why we love it: Arm & Hammer Clump & Seal is the best cat litter for multiple cats that we've found. We think you will love its superior clumping, ability to trap odors, and wide availability. Some people don't like the almost sweet scent and the fine litter granules can cling to the side of the litter box, but these are small prices to pay for a high performing cat litter.
Average Price: 53¢ per pound
Pros
Strong clumping
Low dust
Traps odors
Fresh scent
Cons
Sticks to the side of the litter box
The scent is too strong for some cat parents
Fine granules can track on the floor
---
The Best Clumping Multi-Cat Litter
Ever Clean Multi-Cat
---
Why we love it: Ever Clean Multi-Cat Clumping Litter has superior clumping and odor control. You can't go wrong with this litter. The only disadvantages and what kept it out of the number one spot are that it can be harder to find than other brands and the price tag, but you do get what you pay for.
*Also comes in unscented.
Average Price: 78¢ per pound
Pros
Strong clumping
Fresh Scent
Traps odors
Low tracking
Cons
Expensive
Not sold everywhere
Hard clumps can sometimes be hard to scoop
---
The Best Unscented Multi-Cat Litter
Fresh Step Ultra Unscented
---
Why we love it: Litter with overpowering scents can deter some cats from using the litter box and some cats may even be allergic to perfume. In that case, you need an unscented litter, which is more difficult to find than scented litter. For those who want an unscented multi-cat litter, Fresh Step Ultra Unscented is a great choice.
Average Price: 60¢ per pound
Pros
No heavy perfumes
Solid clumping
Traps odors
Easy to store packaging
Cons
Heavy
Comes in bags instead of a tub or box
---
The Best Natural Multi-Cat Litter
World's Best Cat Litter
---
Why we love it: For people who want to skip the clay litter and use a natural product instead, World's Best Multi-Cat corn litter is a great choice. It clumps well, keeps odors at bay, and is flushable (for urine only!). It also comes in both scented and unscented versions.
Average Price: 96¢ per pound
Pros
Natural
Flushable
Scented or Unscented
Easy to scoop
Lasts longer than tradition clay litter
Clumps well
Traps odors
Cons
Expensive
Some people don't like the smell
---
There you have it! Our picks for the best cat litter for multiple cats. No matter what your needs are, we know you will find the multi-cat litter that is perfect for you.
Last update on 2021-04-22 / Affiliate links / Images from Amazon Product Advertising API