The Best Unscented Cat Litter for Sensitive Noses
This post may contain affiliate or referral links which means we may earn a sales commission. Please see our full affiliate disclosure here.
A lot of cat owners might think that the best thing about their litter is the scent. However, there are several reasons why you might want to ditch the scent and want to choose the best unscented cat litter for your cats instead.
Some people are sensitive to fragrances and may prefer fragrance-free cat litter or your cat might be the one with a sensitive nose. Like all animals, your cat has a keen sense of smell and some will choose to avoid his or her litter if it smells like anything else but their favorite brand.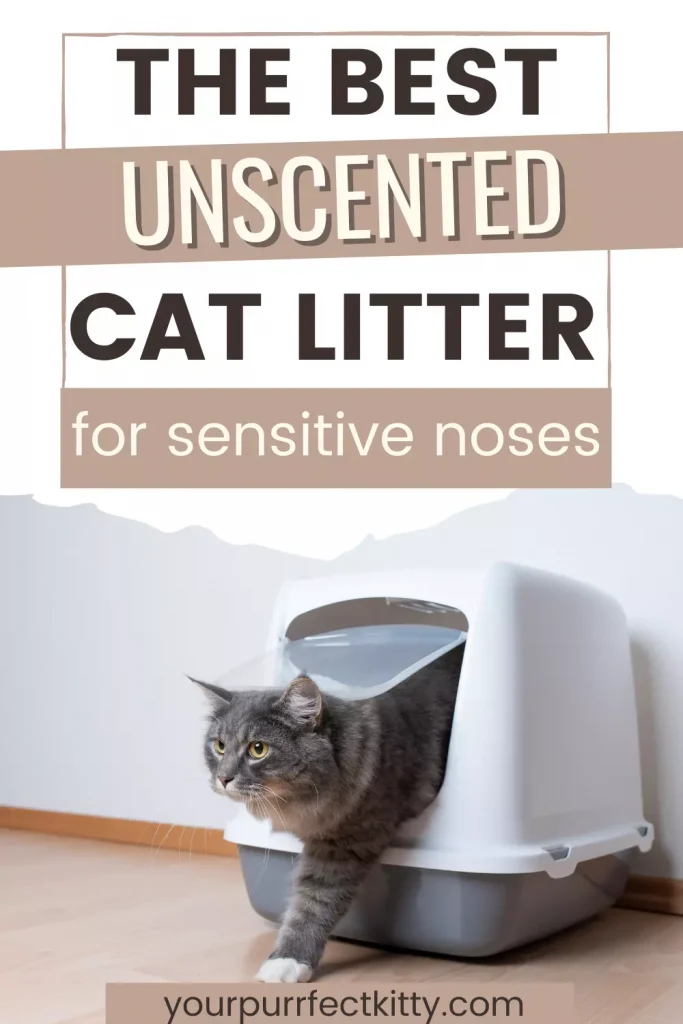 In this post, we will discuss the benefits of unscented litter, why you might want to switch to one, and the best unscented cat litter brands for your feline friend.
The best is relative, but we've used a lot of unscented cat litters and compared the top brands to come up with a list of what we believe are the best unscented cat litter for your cats.
We realize that every cat and owner is unique. Because of that, we are including a variety of options. Whether you're searching for clumping litter, lightweight cat litter, or natural kitty litter, we've got you covered.
Related posts:
Our top choice
If you're in a hurry, our overall pick for the best unscented cat litter is Fresh Step Advanced Simply Unscented Clumping Cat Litter. For a more in-depth description of this litter as well as some other great brands that also made our list, you will find that information further down.
Why choose unscented kitty litter?
One reason for this is that some scented litters are made with artificial fragrances. Cats have an especially sensitive olfactory system which means that many synthetic chemicals may cause them discomfort or even lead to other health problems such as asthma-like symptoms and dermatitis.
In addition to disliking a new scent in their litter box, your cat might not like a particular scent because he associates it with stress or other negative experiences.
Is unscented litter better for cats?
There is no one-size-fits-all answer to this question, as the best unscented cat litter for your cat may not be the best unscented cat litter for another cat. However, many people believe that unscented cat litters are better for cats than scented litters, as the latter can contain artificial fragrances that can be harmful to cats.
Additionally, cats may not like scents in their litter box because they might associate them with stress or other negative experiences.
Unscented cat litters are a good option if:
Your cat has sensitivities to scents or you're worried about artificial chemicals in litters
You live in a small space and don't want the smell of cat urine lingering in your home
You want to eliminate litter box odor without adding another scent to your home
What is the difference between fragrance-free and unscented cat litter?
A fragrance-free product doesn't have any fragrances added to it. Unscented generally implies that the product contains additives that neutralize or mask odors.
Potential allergies
Like people, some cats have allergies. Cats can have allergies to perfume and fragrances, so your cat's allergy symptoms may be exacerbated by the additional odor control and scents in cat litter.
If your cat is experiencing any of the symptoms of an allergy, speak with your vet.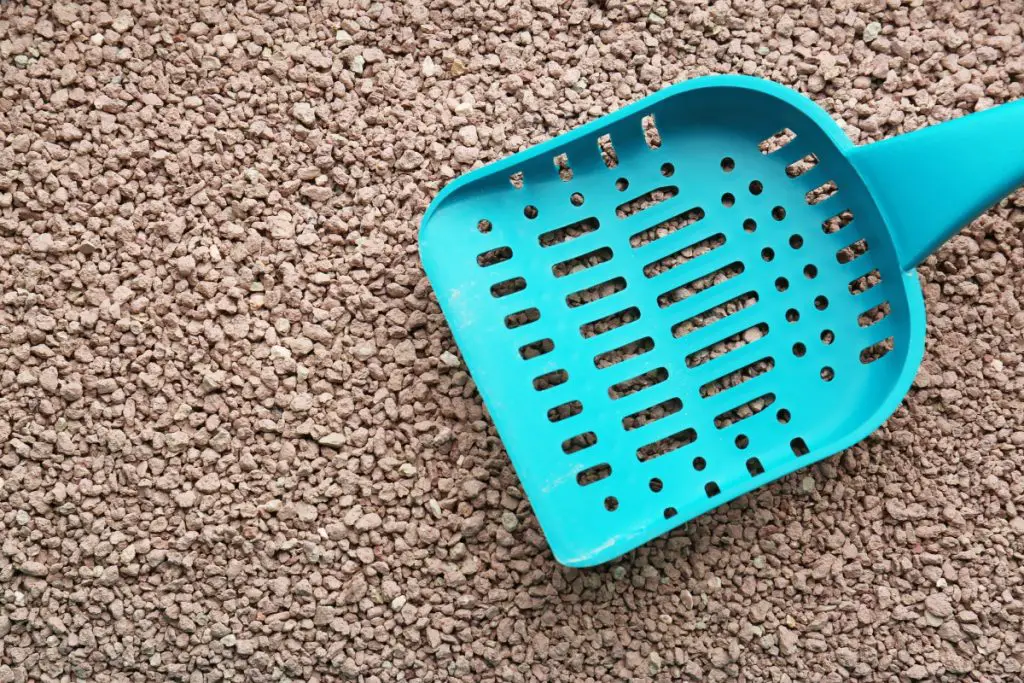 Odor control
Unscented cat litter helps to control litter box odors by adding compounds to it that neutralize odors, such as carbon or baking soda instead of artificial fragrances. These additives are harmless to your cat. but do a great job of controlling litter box odors.
High absorbency
The most significant feature of the best unscented cat litter is for it to be highly absorbent, in addition to odor control.
On contact, a high absorbency cat litter transforms cat urine into a solid clump in order to minimize odors. It must have a high absorption to form a solid clump so it can be scooped out of the litter box with every cleaning to leave the box smelling, well, like nothing at all.
Low dust
Clumping cat litters tend to have less dust than non-clumping ones since they are formed of finer clay granules than non-clumping litter. Dustier clumping litter was excluded from our lists for the best unscented litter for cats.
* While the majority of these cat litters claim to be dust-free, there may be a small amount of dust when pouring litter into the litter box. As a result, rather than saying dust-free, we use terms like low dust and virtually dust-free in our reviews.
If you have compromised respiratory function, use caution with any kitty litter.
Low Tracking
When shopping for the best cat litter, be sure to look for one that is low-tracking. This way your cat won't track much litter from the box to the floor once they've finished using it.
With any litter, some litter will stick to your cat's paws when they walk away from the box. Since no one wants to walk on gritty cat litter while walking around their house, the best fragrance-free cat litter will track less than other litters. Even with a low-tracking litter, a litter mat will trap most of it so your floors stay clean.
The best unscented cat litters in depth
After combing reviews, testing multiple litters with our own cats, and compiling all of the information, We've put together a list of our favorite unscented cat litter to provide you with some fantastic alternatives to try with your cats.
Whether you are looking for strong clumping, non-clumping, inexpensive, or natural litter, rest assured that you can't go wrong with any of these cat litter choices.
The Best Unscented Litter Overall
Fresh Step Advanced Simply Unscented
Buy now at Amazon
Buy now at Target
Why we love it: Fresh Step Advanced Simply Unscented is our top choice for several reasons. As you would expect, the litter itself doesn't smell perfumey while providing excellent odor control. The clumps stay together making it easy to scoop all of the waste out, and it is economical in price compared to some other cat litters on the market. It is also low tracking and low dust.
There are also Light Weight and Clean Paws formulas that work just as well.
Average Price: 59¢ per pound
Pros
Economical
Superior odor control
Solid clumps
Low tracking
Low dust
Available in regular, lightweight, and low tracking formulas
Cons
Small amount of dust
Small amount of tracking
The Best Clumping Unscented Cat Litter
Ever Clean Unscented
Why we love it: Ever Clean Unscented Clumping Litter is strong clumping cat litter with excellent odor control. The only disadvantages are that it isn't as easy to find as other brands and it is fairly expensive compared to the competitors. These are the reasons why this litter didn't take the top spot, but you get what you pay for.
Average Price: 76¢ per pound
Pros
Strong clumping
Excellent odor control
Clean scooping
Low tracking
Cons
On the expensive side
Not as widely available as other brands
A little dustier than some other brands
The Best Unscented Lightweight Litter
Fresh Step Light Weight Clumping Cat Litter Simply Unscented
Buy now at Amazon
Buy now at Petco
Why we love it: Fresh Step Light Weight Simply Unscented cat litter works just as well as our number one choice but in a lighter weight formula. This litter provides excellent odor control, is firm clumping, and economical, just like the regular formula. It is also low on dust and excess tracking.
Adjusted Price: 66¢ per pound (same number of uses as 22 pounds)
Pros
Economical
Superior odor control
Solid clumps
Low tracking
Low dust
Lightweight
Cons
Small amount of dust
Small amount of tracking
The Best Natural Unscented Litter
World's Best Cat Litter
Buy now at Amazon
Buy now at Target
Why we love it: For people who would prefer to use a natural corn-based cat litter instead of clay, World's Best Unscented corn litter is an excellent alternative. It clumps effectively, keeps odors at bay, and is flushable (for urine only!).
There are both scented and unscented choices available.
Average Price: $1.03 per pound
Pros
Low tracking
Virtually no urine odor
Litter lasts a long time
Solid clumps that don't crumble
Flushable (urine only)
Cons
Some people don't like the smell
Expensive
There you have it! These are our favorite unscented cat litter brands. All of these have been tested with two cats so even if they don't specifically say they are for multiple cats, they work well with more than one. But if you are looking for a multi-cat litter, we have you covered there, too.
No matter what your needs are, we know that you will find the unscented kitty litter that is perfect for you and your cats.